RiteSong is a digital music library that provides a quick and easy way to include hymns and songs in your worship services. The collection includes hymns from The Hymnal 1982; The Hymnal 1982 Service Music; Wonder, Love, and Praise; Lift Every Voice and Sing II; Voices Found; My Heart Sings Out; and Enriching Our Music 1 & 2. All hymns in the library include permission for congregational print use.
RiteSong allows you to download lyrics and/or sheet music as PNG and DOCX files which you can then print or insert into your worship services.
Subscribers can download unlimited hymns throughout the duration of their subscription.
Customers who buy individual songs will be prompted to download the file after purchase. They will also receive an email with a link to the download. Customers also have the option to register for RiteSong to access their downloads and keep track of their order history.
You can buy individual songs for $5.49 each, or you can purchase a subscription which provides unlimited downloads throughout the year. The cost of an annual subscription to RiteSong is based on your church's Average Sunday Worship Attendance (ASWA). There are seven tiers ranging from the lowest of under 49 to the top tier of 500+ attendees. Subscriptions will be automatically renewed each year.
RiteSong License Agreement
Thank you for becoming a subscriber to RiteSong, a product of Church Publishing Incorporated and hosted by Augsburg Fortress. Your subscription includes an annual license to use and reproduce RiteSong materials for your congregation within the limitations of these terms of use and the license granted hereunder. Please retain the following important information for your records.
To print or project hymns or service music for any use other than congregational use, you may need additional licensing. For podcast/streaming, please visit One License www.onelicense.net.
ANNUAL LICENSE
Church Publishing Incorporated (the Publisher), as owner and/or administrator of certain rights to the works covered by the terms of this license, grants to the congregation or other qualifying organization identified as the registered owner of this license (the Registered License Owner), the nonexclusive right to use the material described below (the Licensed Material) solely during the term of this license and subject to the conditions described below.
The following conditions apply:
USES AUTHORIZED BY THIS LICENSE UNDER SUBSCRIPTION
Subject to the terms of this license, the Publisher grants the Registered License Owner non-exclusive permission for the following authorized uses of the Licensed Material:
1. Reproduction of the printed copies or electronic files of the Licensed Material in copies or electronic presentations (including video projections) by employees or agents of the Registered License Owner.
2. Use of the printed copies or electronic files of the Licensed Material by members of the Registered License Owner or by participants at events sponsored by the Registered License Owner.
3. Public performances of the Licensed Materials at events sponsored by the Registered License Owner.
USES NOT AUTHORIZED BY THIS LICENSE
This license authorizes only the uses described above. All other uses are retained by the Publisher and are subject to separate permission. Examples of such prohibited uses include:
1. Preparation of new musical arrangements of copyrighted text or music in the Licensed Material.
2. Distribution of the Licensed Material outside of the Registered License Owner's organization beyond events sponsored by the Registered License Owner.
3. Translation of the texts of the Licensed Material into any other language.
4. Posting of Licensed Material for public display or on a website.
5. Any other use not specifically authorized by this license.
6. Use of the Licensed Material, either in print or electronic form, after expiration of the license.
COPYRIGHT CREDIT LINES
All uses of the Licensed Material must be accompanied by the use of the appropriate statement acknowledging the copyright status. Copyright credit lines for material covered by this license must follow this format:
From RiteSong. Copyright [current year] Church Publishing Incorporated All rights reserved. Reprinted by permission.
ASSIGNMENT OF THIS LICENSE
The rights granted by this license are not transferable to any individual, congregation, or other organization without the written permission of the Publisher.
EFFECTIVE DATE
This license is in effect at the time of purchase. By placing your order on the Augsburg Fortress on-line store, you are accepting these terms.
DURATION OF THIS LICENSE AND AUTOMATIC RENEWAL
The term of the license is for one year from the date of purchase. The license will renew automatically for successive one-year terms, which will be billed at the then current rate. The license will not be renewed if terminated hereunder.
TERMINATION
The Publisher or Augsburg Fortress (1517 Media) may terminate the license immediately, at either party's sole discretion if the Registered License Owner:
1. Does not use the specified copyright acknowledgement credit lines.
2. Assigns the license to any individual, congregation, or organization without permission
3. Does not otherwise comply with the terms of the license.
4. Makes and/or distributes unauthorized copies of the Licensed Material.
DESTRUCTION OF MATERIALS UPON LICENSE EXPIRATION
If the Registered License Owner chooses at any time to not renew their subscription to RiteSong, upon expiration or termination of the license all printed and electronic copies or originals of the licensed Material must be destroyed.
MATERIALS COVERED BY THIS LICENSE (LICENSED MATERIALS)
All Church Publishing Incorporated copyrighted and copyright-administered texts and congregational singing parts (music graphics). This license does NOT include copyright permission for any similar material whose copyright is not owned or administered by the Publisher (permission for use of any such materials must be obtained from the owner/administrator for each use), congregational hymns or songs, any musical accompaniments to liturgical music, or any other music not included in the RiteSong content set.
SPECIAL TERMS FOR INDIVIDUAL SUBSCRIBERS
Individual subscriptions are offered for one-time use only, including use at locations where this individual is serving on a one-time basis. Downloaded content cannot be shared or given to any other individuals, churches, or organizations for repeated use.
Copyright ©2022 Church Publishing Incorporated All rights reserved.
Authorized Uses
Except as otherwise noted within this website, you are authorized to view, copy, print, and distribute documents within this website, subject to your agreement that:
1. Your use is for informational and non-commercial purposes only, and you will not copy, distribute, transmit, display, perform, reproduce, publish, license, create derivative works from, transfer, sell, or make any other use of any of the content obtained from this Web site.
2. You may save a local copy or send it to your printer either for your own personal use or in order to inform others. However, you may not charge for such use.
3. You will not modify the documents or graphics, copy, or distribute graphics separate from their accompanying text, or quote materials out of context, except as permitted by features on the site.
4. You will display the above copyright notice and retain any other copyright, trademark, and other proprietary notices on every copy that you make.
5. You will not use any of the site content on any other website or networked computer environment, or in any format or medium. (See "Links" below.)
6. Neither Church Publishing Incorporated nor any third party has conferred upon you by implication, estoppel or otherwise, any license or right under any patent, trademark, or copyright (except as expressly provided above).
Church Publishing Incorporated reserves the right to change this agreement at any time by publishing a revised version of this agreement on the site. You are responsible for regularly reviewing this agreement. Continued use of the site following any such changes means you accept and will abide by these changes.
Permissions
All content on this website is copyrighted as a collective work under the US copyright laws, and Church Publishing Incorporated owns the copyright to the selection, coordination, arrangement, and enhancement of the content. In addition, the artwork and illustrations contained throughout the pages of this website are protected by copyright and may not be copied or otherwise reproduced without written permission.
Direct all questions concerning copyright and permissions to our hosting partner:
Church Publishing Incorporated Attn.: Permissions
19E 34th Street
New York
NY 10016
Please visit the Copyrights & Permissions Section of our website for more information or Contact Us with any questions.
Trademarks
Various product names, logos, designs, titles, words, or phrases within this website may be trademarks, service marks, or trade names of Church Publishing Incorporated or other entities and may be registered in certain jurisdictions and countries. All other trademarks, product names, and company names and logos appearing on this website are the property of their respective owners.
Church Publishing Incorporated trademarks may not be used in connection with any product or service that is not Church Publishing's, in any manner that is likely to cause confusion among customers, or in any manner that disparages or discredits Church Publishing Incorporated.
Links
This site may contain links and pointers to other websites. Church Publishing Incorporated and Augsburg Fortress do not operate or control in any respect, or necessarily endorse, the content found on those sites, and you assume sole responsibility for use of those links and pointers.
Church Publishing Incorporated encourages and appreciates links from other websites to this website. Permission is granted to place a link from another website page to the Church Publishing Incorporated welcome page in its entirety. You must obtain permission, however, before placing a link in your own web page to a portion of a Church Publishing Incorporated or Augsburg Fortress website page (e.g. a graphic). As a courtesy, if you link to or include the Church Publishing Incorporated or Augsburg Fortress website site in an index, please let us know.
Reminders Regarding website Content
This website is provided "as is," for your information only. (See "Disclaimer" below.) You assume all risks concerning the suitability and accuracy of the information. The website may contain technical inaccuracies or typographical errors. Church Publishing Incorporated and Augsburg Fortress assume no responsibility for and disclaims all liability for any such inaccuracies, errors, or omissions in this website and in other documents referred to within or linked to this website.
Prices, technical specifications, and product offerings are subject to change without notice, at any time.
Privacy
Church Publishing Incorporated and Augsburg Fortress considers all customer information confidential and will not sell or share it with any company or organization not partnering with us. We share customer information only with organizations who are acting on our behalf to conduct specific activities or working with us to provide innovative products and services. We do not sell the names and addresses of our customers.
Any other information, feedback, data, questions, comments, or suggestions regarding the content of this website site will not be considered confidential and Church Publishing Incorporated will be free to reproduce, use, disclose and distribute the response to others, without limitation. You agree that Church Publishing Incorporated is free to use any ideas, concepts or techniques contained in your response for any purpose whatsoever including, but not limited to, developing, manufacturing, and marketing products incorporating those ideas, concepts, or techniques.
International
This website site may be visited internationally and may contain references to Church Publishing Incorporated or Augsburg Fortress products, programs, and services that have not been announced in your country. These references do not imply that Church Publishing Incorporated or Augsburg Fortress intends to announce such products, programs, or services in your country. For information on product availability within your country, contact our Product Order Center.
DISCLAIMER
THIS SITE IS PROVIDED BY CHURCH PUBLISHING INCORPORATED AND AUGSBURG FORTRESS ON AN "AS IS" BASIS. CHURCH PUBLISHING INCORPORATED AND AUGSBURG FORTRESS MAKE NO REPRESENTATIONS OR WARRANTIES OF ANY KIND, EXPRESS OR IMPLIED, AS TO THE OPERATION OF THE SITE, THE INFORMATION, CONTENT, MATERIALS OR PRODUCTS, INCLUDED ON THIS SITE. TO THE FULL EXTENT PERMISSIBLE BY APPLICABLE LAW, CHURCH PUBLISHING INCORPORATED AND AUGSBURG FORTRESS DISCLAIM ALL WARRANTIES, EXPRESS OR IMPLIED, INCLUDING BUT NOT LIMITED TO, IMPLIED WARRANTIES OF MERCHANTABILITY AND FITNESS FOR A PARTICULAR PURPOSE. CHURCH PUBLISHING INCORPORATED AND AUGSBURG FORTRESS WILL NOT BE LIABLE FOR ANY DAMAGES OF ANY KIND ARISING FROM THE USE OF THIS SITE, INCLUDING BUT NOT LIMITED TO DIRECT, INDIRECT, INCIDENTAL PUNITIVE AND CONSEQUENTIAL DAMAGES.
Applicable law
This site is created and controlled by Augsburg Fortress in the State of Minnesota, USA. As such, the laws of the State of Minnesota will govern these disclaimers, terms, and conditions, without giving effect to any principles of conflicts of laws.
Effective date: May 9, 2022.
RiteSong includes hymns and songs from:
The Hymnal 1982
The Hymnal 1982 Service Music
Wonder, Love, and Praise
Lift Every Voice and Sing II
My Heart Sings Out
Voices Found
Enriching Our Music 1 & 2
Songs for which permission has not yet been obtained are not included in the library. As copyright holders grant these permissions, these songs will be added.
From the homepage, you can do a quick and easy search by hymn name or number using the basic search on the left, or you can expand your search by hymnal or by keyword, tune name, or composer.

From the search results, you can then preview the hymn by clicking on the hymn name or on the magnifying glass icon, play a sound sample, and download/purchase the hymn.

Once logged in, subscribers can click the arrow (download this file) icon to the right of any hymn name, enter the usage information, and click "Download File".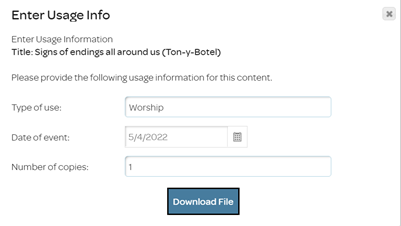 Although RiteSong provides a license for use of the content you download, the creators of these works are paid on the basis of usage. We therefore ask at the point of download how many copies you intend to produce. This figure is normally the number of printed copies you intend to make, but can also be the number of people who will see the content. This is a key part of the calculation of royalty payments to the creators/administrators of that work.
Non-subscribers can purchase individual songs and will be prompted to download the file after purchase. They will also receive an email with a link to the download.
The download is a zip file that includes PNG and DOCX files. These files can be printed or inserted in your worship bulletin.
"My Account" allows you to view and manage all aspects of your RiteSong account, including renewal date, download history, and adding users.

To add users to the account, go to "User Profiles" and click on the green "Add User" button. Fill in the name, email, and password and click "Submit". You will need to give the new user their credentials as RiteSong does not send automated emails with this information. If a user has an account for RitePlanning or Journey to Adulthood, their current password will take precedence over what you enter.
To edit a user's information or change a user's password, click on the pencil (edit) icon to the right of the username.
To remove a user from your account, click on the trash can (delete) icon to the right of the username.
Please contact our customer support team by email
webhelp@augsburgfortress.org
, or call 844-993-3811, Monday through Friday, from 8:00 am to 4:30 pm (Central Time).